OrchEstraCada
About our Program
OrchEstraCada is a multilevel orchestra for all ages, and many of our participants are families who want to make music together. We have beginners, advanced players and experienced music teachers. Our rehearsals are held in two stages. Mentors meet with students for the first hour, as advanced players work one-on-one with students to check for understanding, technique, and performance readiness. At 5:00, the whole orchestra begins rehearsal together, starting with the easiest pieces. Then the beginners leave and the rest of the orchestra settles in for rehearsals of more difficult pieces. Typically, beginners and intermediates are finished at 5:30, and advanced players are done at 6:30.
Orchestra instruments include violin, viola, cello, bass, guitar, horns, flute, clarinet, piano, and percussion.
Our History
In 2006, Estacada Together and the Estacada School District successfully applied for a Community Music Partnership with the Oregon Symphony. In the 2006-7 school year, the Oregon Symphony provided this small community with ensemble performances and workshops for the schools and the town, culminating in a joint performance with local musicians in the high school gymnasium. Suddenly, there was an interest in string instruments and orchestral music that needed an outlet. OrchEstraCada was formed to meet that need.
For the 2007-8 year, the orchestra was part of the Estacada Community Schools. The following year, it was sponsored by Estacada Together, and began meeting in the Estacada Public Library Community Room. In 2012, OrchEstraCada began a collaboration with Estacada Web Academy (subsequently Summit Learning Charter) to offer school credit for students. In 2020, when schools closed due to the pandemic, the orchestra moved to the Estacada First Baptist church sanctuary.
If you're not a local, you may need to know that we pronounce our city's name as "EsstuhKayduh", so the orchestra is pronounced "OrkEsstruhKayduh."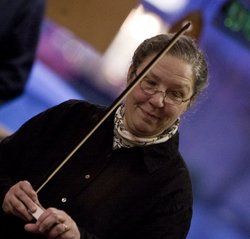 Our Music Teachers
Director Elaine Butler is a licensed teacher with Summit Learning Charter, and manages the Philip Foster Farm historic site on the Oregon Trail. She started performing as a vocal soloist at age four, started piano lessons at age 6, and began her violin and theory training at the Portland Community Music Center at age 8. Elaine teaches social studies and general music classes at Summit, and enjoys performing with church and community musicians. She and her husband, Mike, have six grown children, including two licensed K-12 music teachers.
Claudia Zinser is a retired music teacher, and continues to maintain her license after teaching orchestra and general music classes in North Clackamas and Estacada school districts. Claudia plays violin, cello, and viola.
Doug Castle is a retired band director from Sandy, Oregon. He joined the orchestra to play with his wife LaDonna, his daughter and grandchildren, and currently selects and arranges music and conducts the orchestra.
Greg MacAdams is retired from teaching music in the Centennial district, and plays violin with the orchestra.